The modified emulsion bitumen plant produced by our company is widely used in the construction of national roads in China due to its superior practical value. DX-YD1-12 mobile emulsion bitumen plant is specially designed to reduce material transportation for road construction, especially high-grade road construction. The development and research of its construction cost, energy saving, shortening construction period, and improving economic efficiency have reached the world advanced level.
DX-YD1-12 mobile emulsion bitumen plant is mainly composed of colloid mill and its supporting motor, bitumen pump and its supporting motor, pipeline pump and its supporting motor, burner, heat exchanger, mixing tank and its supporting motor, heat-conducting oil pump and its supporting motor, and other composition. It has a fully automatic control system. According to the set oil-water ratio, a PLC automatically adjusts the frequency converter to control the motor speed, so that the flow of bitumen and water meets the set value; and realizes automatic water supply and heating to achieve continuous work. The oil-water ratio can be strictly controlled, ensuring the bitumen content and the quality and stability of the emulsion bitumen.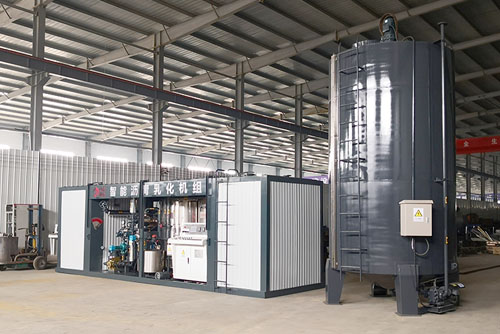 Safety instructions for the operation of emulsion bitumen plant:
1. The operators of the emulsification workshop must be trained by professionals.
2. Read all operation manuals carefully before operation.
3. Many systems of the emulsion bitumen plant work under high temperature, and you must always be vigilant when working on and around the equipment to avoid scald.
4. During the operation, pay attention to the operation steps to avoid incorrect operation that may cause damage to the equipment.
5. When adding an emulsifier, please use it correctly in accordance with the manufacturer's instructions.
6. The emulsifier adding staff must wear protective equipment.
7. When repairing and maintaining emulsion bitumen plant, first confirm whether the main power supply is cut off, and then perform maintenance.